Product Description
Prouduct name: Pomalidomide
CAS: 19171-19-8
Appearance: White Powder
Grade: 99.0%min
Certification of High quality 19171-19-8 with best price
Purity:99.0%min
Essential information of High quality 19171-19-8 with best price
White Powder
More information of High quality 19171-19-8 with best price
Storage:It should be stored in a well-closed container at low temperature, keep away from moisture, heat and light.
Application of High quality 19171-19-8 with best price
For pharmaceutical intermediates .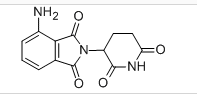 Pomalidomide, also known as CC4047, is an orally bioavailable derivative of thalidomide with potential immunomodulating, antiangiogenic and antineoplastic activities. Although its exact mechanism of action has yet to be fully elucidated, pomalidomide appears to inhibit TNF-alpha production, enhance the activity of T cells and natural killer (NK) cells and enhance antibody-dependent cellular cytotoxicity (ADCC).

Properties:
Density: 1.57g/cm3
Boiling Point: 582.9ºC at 760mmHg
Flash Point: 306.3ºC
Refractive Index: 1.691
Vapor Pressure: 1.41E-13mmHg at 25°C