Product Description
5,6-dimethoxy-2,3-dihydroinden-1-one
Intermediate Donepezil CAS NO 2107-69-9
Chinese Name: 5,6- two methoxy -1- ketone
Chinese alias: 5,6- two methoxy ketone;
5,6- two methoxy -1- Dione;
5,6- two methoxy benzo indole ketone;
English Name: 5,6-dimethoxy-2,3-dihydroinden-1-one
English alias: 1H-Inden-1-one, 2,3-dihydro-5,6-dimethoxy-;
5,6-dimethoxyindan-1-on;
5,6-Dimethoxy-indan-1-one;
1H-Inden-1-one, 2,3-dihydro-5,6-dimethoxy;
5,6-dimethoxy-2,3-dihydro-1H-inden-1-one;
5,6-Dimethoxy-1-Indanone;
5,6-Dimethoxy-2,3-dihydro-1H-inden-1-one;
3,4-dimethoxy-1-indanone;
5,6-Dimethoxy-1-indanone;
CAS: 2107-69-9
Molecular formula: C11H12O3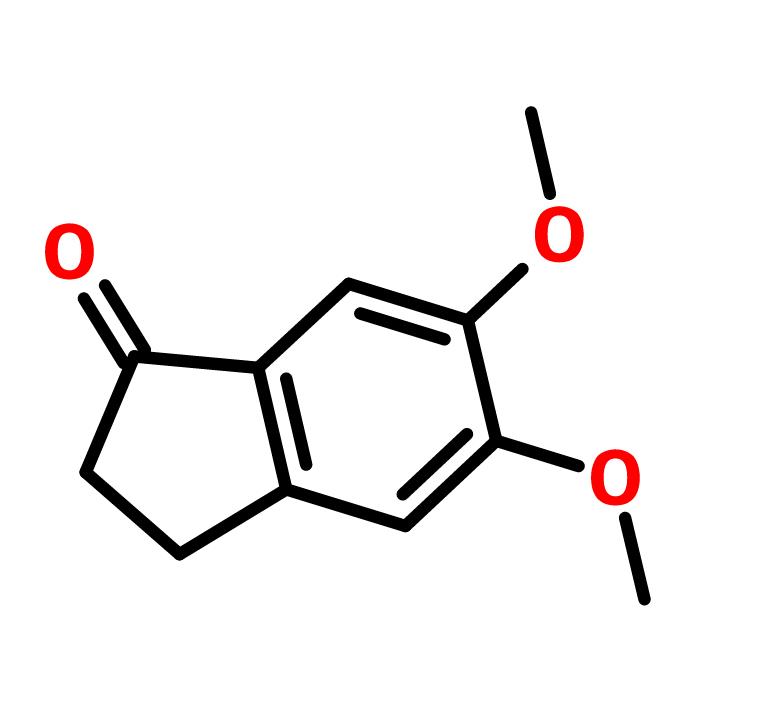 Molecular weight: 192.21100
Precise quality: 192.07900
PSA:35.53000
LogP:1.83270
Physicochemical properties
Appearance and properties: white to yellowish crystalline powder.
Density: 1.179g/cm3
Melting point: 118120 degree C
Boiling point: 139 degrees C / 2mmHg
Flash point: 150.4 x C
Refractive index: 1.615
Stability: Stable under normal temperatures and pressures.
Store conditions: Store in a tightly closed container. Store in a cool, dry, well-ventilated area away from incompatible substances.
Steam pressure: 3.35E-06mmHg at 25 degree C
security information
Customs Code: 2914509090
WGK Germany:3
Danger category code: R20/21/22
Safety instructions: S22-S24/25
Dangerous goods sign: Xn
purpose
Intermediates of organic and pharmaceutical synthesis to synthesize intermediates of donepezil.